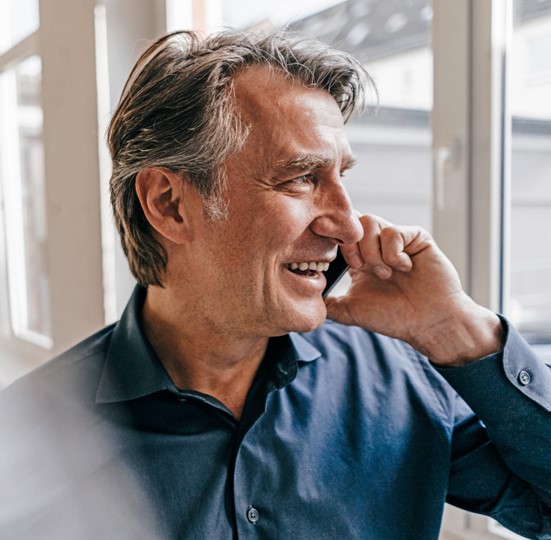 In his book "Unlocking Private Company Wealth", Chris Mercer explains that closely held business owners will either exit the business "standing up" or "laying down". The owner's exit will either be a partial or full transfer or sale in either event. We think this Ownership Matrix helps describe what Business Value Protection Planning best addresses…exiting the business "laying down".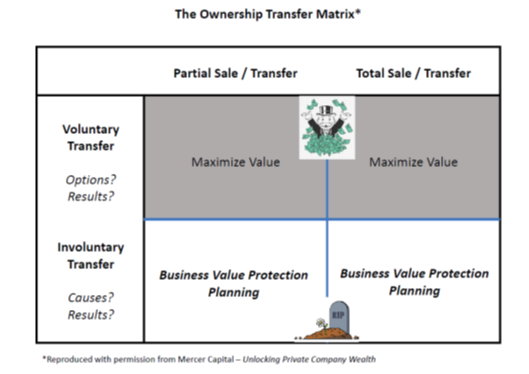 Business owners and their advisors are typically focused on maximizing the value of the business for the time of sale or transfer. However, death or significant disability to an owner, partner or key employee can have a disastrous impact on the value of the business. Having proper plans, fully documented and appropriately funded can mitigate if not fully eliminate this loss of value and income.
Our Pie Chart Story© illustrates the need for Business Value Protection Planning.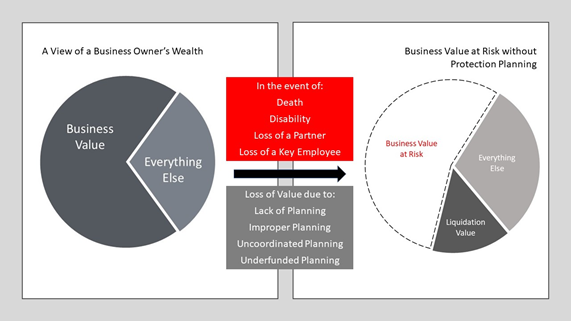 The business represents the majority of wealth and income for a business owner. Unplanned events can reduce this value and income all the way to liquidation value. Putting Succession, Retirement, Estate and Key Stakeholder plans together does not have to be arduous if a proper process is in place. Business Value Protection planning begins with getting the value analytics of the business so we know our starting point. Thanks to new technology, this is an easy exercise taking less than an hour of a business owner's time. From there, we partner with the owner's tax and legal advisors to put the proper plans in place. Finally we leverage the cost of funding by using life and disability insurance products to mitigate risk. The only requirement of the owner is to make key decisions about their sale/transfer strategies. This puts the owner in the position they are best equipped to handle while leaving the coordination and technical work to their chosen team of advisors.
All too often we see the failure of focusing on only maximizing the future value of the business for exiting while "standing up". Surveys tell us that over 90% of business owners don't' have a valuation for their business…they're guessing at what it's worth in the here and now. Nearly 70% lack proper written plans, especially when it comes to the event of death or disability. Over 50% are also underinsured.
The process of Business Value Protection Planning will take care of exiting the business "laying down" while also putting in place the foundation for exiting while still standing. Peace of mind is a powerful influence for focusing on future growth.
Protect and Value a business owner's most important asset.
For more information, please give us a call.